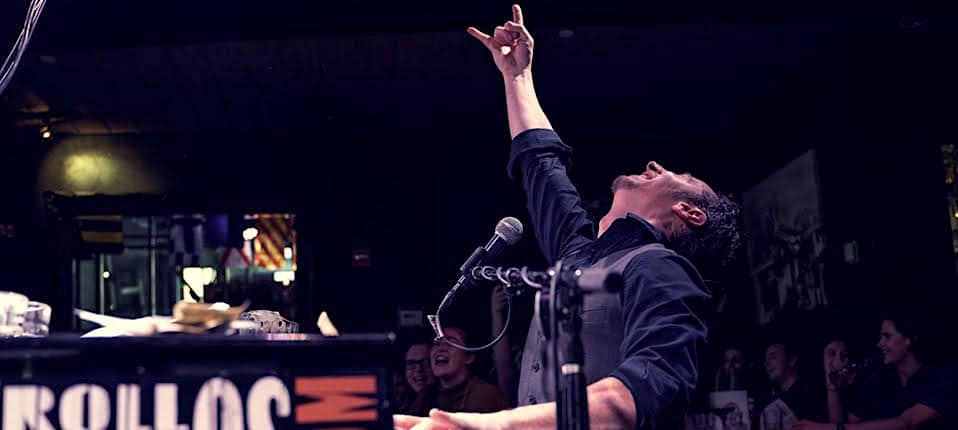 What are the TOP 10 Dueling Pianos songs?
Dueling Pianos shows like Shake Rattle & Roll Pianos in NYC pride themselves on knowing THOUSANDS of songs, on command. But there are definitely a prime list of the MOST popular songs that everyone loves to hear, and sing along to.
#10-6
#10 – Singalongs are the heart of a great Dueling Pianos show, but sometimes you gotta put the PIANO in Dueling Pianos, and to start things cookin', you need GREAT BALLS OF FIRE!
#9 – Country music isn't just for guitars & fiddles anymore! A perfect country chorus can get an entire bar singing along. Especially if that song is FRIENDS IN LOW PLACES by Garth Brooks!
#8 – Sha la la la la la la…The beginning of a GREAT Dueling Pianos night! And the reason why BROWN EYED GIRL is a classic addition to the Top 10 Dueling Pianos song requests!
#7 – Dueling Pianos covers EVERY genre, from show tunes to speed metal. And we certainly wouldn't neglect a popular hip-hop song about the posterior. Because we like it. And we cannot lie. BABY GOT BACK.
#6 – You can't have the top 10 Dueling Pianos songs without featuring some of the Dueling Piano Men – namely Elton John. His BENNIE & THE JETS is the ultimate call and response song (Benny – BENNY!, Benny – BENNY!).
#5-1
#5 – Hairbands. 80s. On pianos. A match made in Dueling Pianos heaven since the beginning of time, or at least the 80s. LIVIN' ON A PRAYER by Bon Jovi, because a great singalong needs a great OHHHHHHHHHH section.
#4 – Nothing makes an EPIC night like an EPIC song. Enter – BOHEMIAN RHAPSODY – the epic-est song of all! Appearances in Wayne's World and the recent Queen bio-pic haven't hurt any. Mamaaaaaaaa!
#3 – SWEET CAROLINE. Just saying the name, for a New Yorker, gives you hives. For the uninitiated, not only is this a classic Neil Diamond singalong, but it's also the Boston Red Sox 7th inning anthem. So, the NYC crowds love this song for other reasons than perhaps the rest of the country (namely stopping it for New York New York…), but it's still popular enough to nab the bronze medal spot on our Dueling Pianos list!
#2 – You knew this one was coming, but not at the top spot! Billy Joel's eponymous piano bar theme song – PIANO MAN. Sing us a song, wontcha!?
#1 – The all-time heavyweight champ of the piano bar circuit is DON'T STOP BELIEVIN' by Journey. This anthem has been boosted by appearances on cultural touchstones like Glee, The Sopranos and Rock of Ages. And let's be honest, because who doesn't like a rousing chorus like this one!
That completes our visit to the Top 10 Dueling Pianos requests! Now get out there and sing along!
You can visit us in NYC at http://www.ShakeRattleRollPianos.com and see a show THIS WEEKEND!